If we go by the statistics, rice is a food staple for more than 3.5 billion people around the world. This humble food often makes us feel lethargic and drowsy, and if you are having a hectic day at work, consuming rice for lunch is surely a bad idea. But, the question is, why does it happen, and is there any way to manage it?
What actually happens?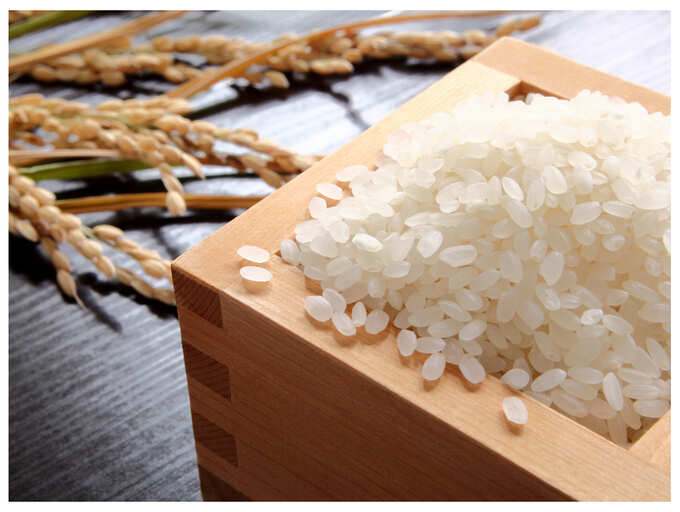 Rice is rich in carbohydrates, and according to Pooja, whenever you eat carbs, they are converted into glucose, and glucose requires insulin. She further adds, "Once the insulin surge increases, it prompts the brain for the essential fatty acids of tryptophan to enter, that causes melatonin and serotonin to increase, which are the calming hormones that cause the drowsiness."
Is it a normal phenomenon?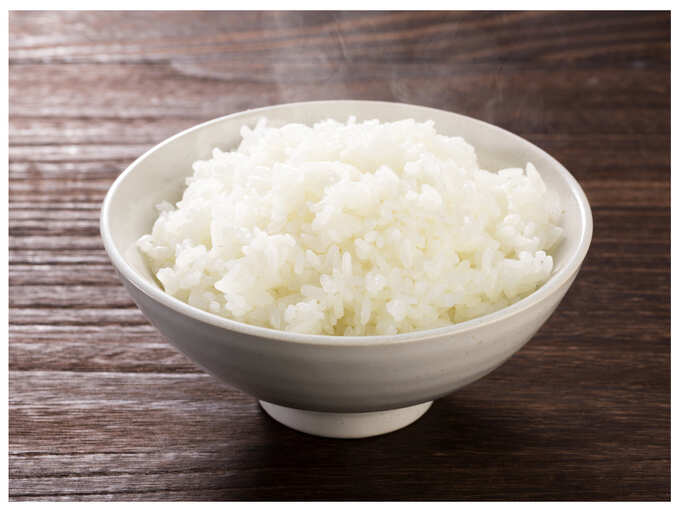 Yes, according to experts, feeling drowsy after eating rice is normal. Pooja mentions, "It's a normal nervous response so that the body calms down and focuses on the process of digestion."
How to control it?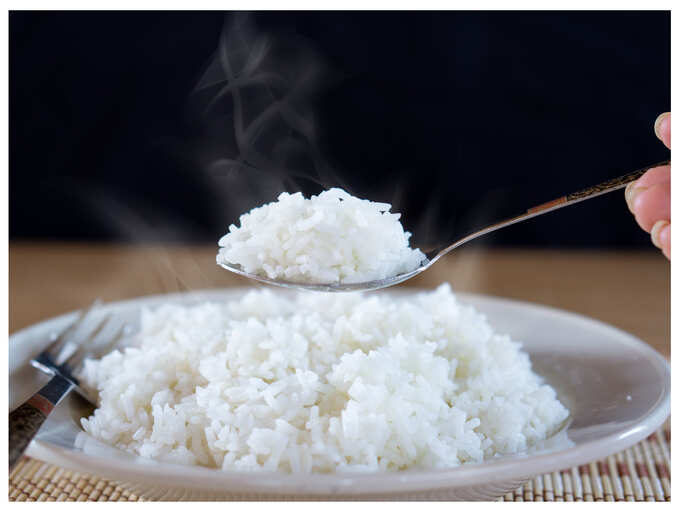 Make sure that the quantity of your meal is not very large. Expert feel that portion control is the easiest way to avoid drowsiness in the daytime. Pooja mentions, "Larger the meal, larger the effort, and it will result in fatigue and drowsiness." She advises, "Your mid-day meal should have 50 % vegetables, 25 % protein, and 25 % carbs."
Also, while practising portion control, you can eat two rotis, and ½ bowl of rice. Some experts also suggest switching to brown rice instead of white as it releases energy slowly and doesn't make you feel too drowsy. Here are a few rice recipes that you can try at home.
Veggies Fried Rice Recipe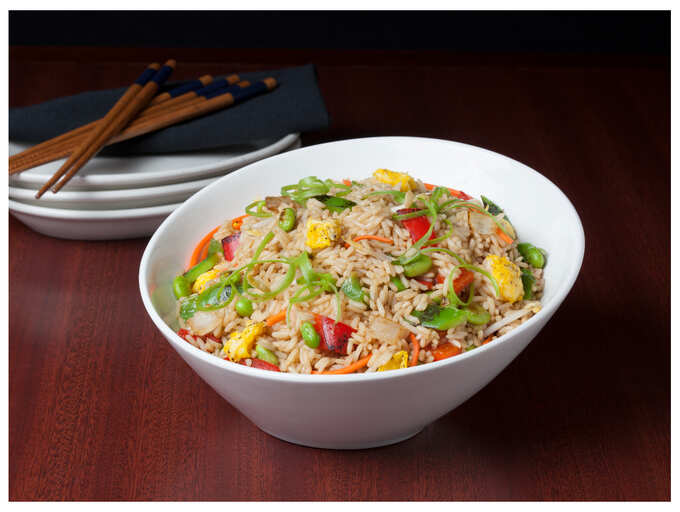 Ingredients
Cooked Rice, ¼ cup
Oil, 2 tbsp
French Beans, ½ cup
Carrot, ½ cup
Green Peas, ¼ cup
Onion, 1 no.
Corn, ¼ cup
Garlic, 3-5 cloves
Green Chilli, 1 no
Mixed Bell Pepper, 1 cup
Salt to taste
Black Pepper, 1 tsp
Soy Sauce, 1 tbsp
Vinegar, 2 tbsp
Dry Mixed Herbs, 1 tbsp
Method
1. Take a wok; add oil, green chilly and garlic. Allow it to splutter. Now add onion, beans, capsicum, carrot, and corn. Cook them till they are 70 per cent cooked. Now add salt, soy sauce, black pepper, mixed herbs, and vinegar. Mix well and cook for 2 minutes. Now add cooked rice and mix well and cook for another minute. Serve hot.
Tehri Recipe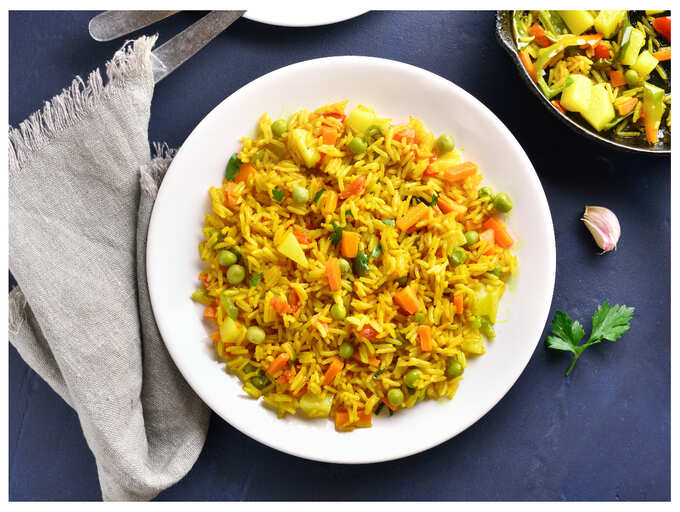 Ingredients
Ghee, 2 tbsp
Cumin Seeds, 2 tsp
Clove, 1-2 nos.
Cardamom, 2-3 nos.
Onion, medium, 2 nos.
Garlic, 4-6 cloves
Carrot, cubed, 1 no.
Tomato, 1 no.
Green Chilli, 2 nos.
Green Peas, parboiled, 1/4 cup
Rice, soaked, 1/2 cup
Turmeric Powder, 1 tbsp
Red Chilli Powder, 1 tsp
Coriander Powder, 1 tsp
Cumin Powder, 1 tsp
Salt to taste
Coriander Leaves, 2 tsp
Method
1. Heat a pressure cooker; add ghee, cumin seeds, green chilli, cloves, cardamom and garlic. Allow them to cook for 30 seconds. Now, add onion and tomato and cook for 2-5 minutes. Add carrot and parboiled green peas and mix well. Add turmeric powder, red chilli powder, coriander powder, cumin powder, and salt to taste. Mix all the ingredients well. Now add soaked rice and gently mix. Add enough water and pressure cook for 2 whistles. Garnish with coriander leaves and serve hot with raita.
How to make Mexican, Southwest and Thai Rice Pot
Authentic Rice Pot recipes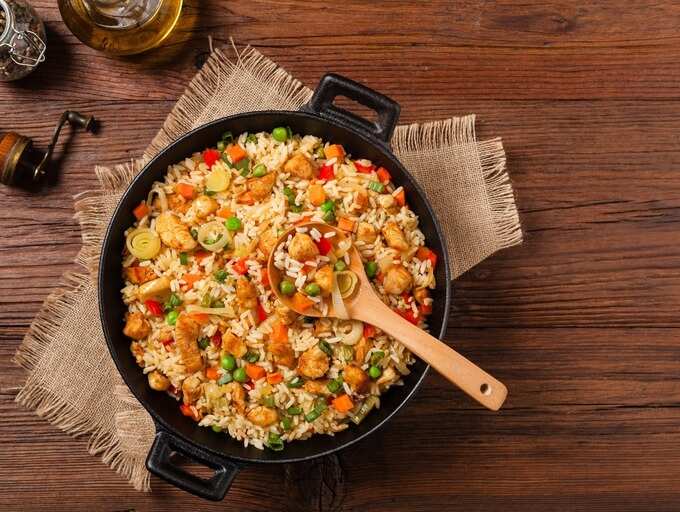 If you are a rice lover, then this article is just for you. From Mexican, Southwest to Thai rice, we bring to you some easiest rice recipes from around the world. These rice recipes are one-pot recipes and can be made with just a handful of ingredients. So, replicate the international flavors in your kitchen by cooking these authentic rice recipes at home by following the below-given recipes.
Mexican Rice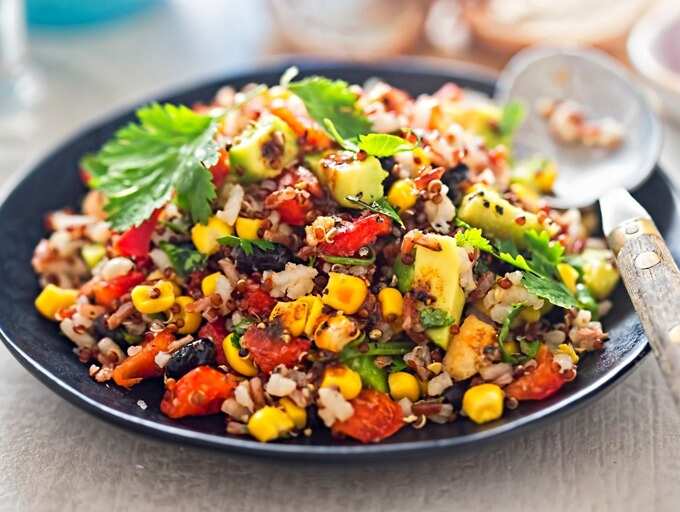 Ingredients required- 2 cup brown rice, 1 cup sweet corn, 6 cloves garlic, 1 teaspoon oregano, ¼ cup green onion, ½ cup frozen peas, 2 teaspoon cumin seeds, 1 chopped tomato, ¼ tsp black pepper powder, salt as per taste and 4 tablespoon olive oil.
Method
Heat oil in a pan. Now, add washed rice and saute for 5 minutes. Now add chopped tomato, green onions, cumin, oregano, corn, peas, garlic and sauté for 2 minutes.
Now add salt as per your taste, black pepper powder and mix well.
Turn the flame to low and some water to cook the rice and cover the pan with a lid and let the rice simmer for 10 minutes so that all the water gets absorbed by the rice.
Once cooked, fluff the rice with a fork so that the grains do not stick to each other.
Serve hot with a gravy dish of your choice.
​Southwest Rice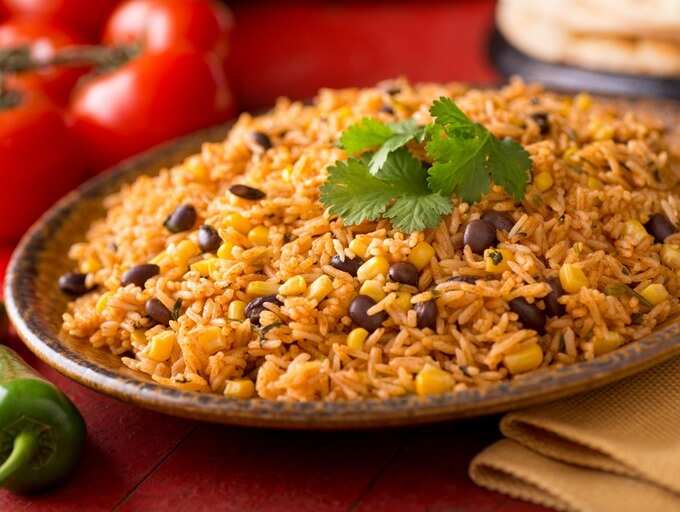 Ingredients required- 1 cup rice, 4 garlic cloves, 1 chopped onion, ¼ cup corn, 1 cup tomato puree, ½ cup boiled black beans, ½ teaspoon cumin powder, ¼ teaspoon turmeric and salt.
Method
Heat oil in a pan. Add chopped garlic and onion.
Now add washed rice and saute for 2 minutes.
Add ground cumin powder, turmeric, salt, corn, tomato puree and boiled black beans.
Now add enough water to cook the rice properly.
Cover the lid and cook for 10-12 minutes.
Your Southwest Rice Pot is ready to be served. (image credits- istock)
​Thai Rice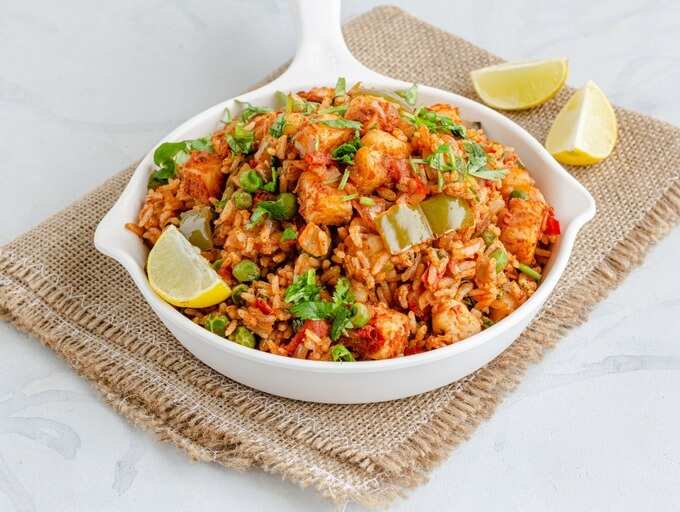 Ingredients required- 300 gm pork, 2 tablespoon peanut oil, 3 cloves crushed garlic, 2 chopped tomato, 3 tablespoon fish sauce, 2 teaspoons of brown sugar, 1½ cup rice, 2 eggs, 1 onion, 2 tbsp coriander leaves, 1 tablespoon soy sauce, 1/4 cup chicken stock, ¼ tsp black pepper powder and salt as per taste.
Method
Wash the rice properly and cook it till it is 90% cooked. Keep the cooked rice in a bowl.
Beat two eggs in a pan. Add salt and black pepper powder and mix well. Heat 1 tbsp oil in a pan. Add the beaten eggs and cook the omelette. Now roughly chop it and set it aside.
Heat 2 tbsp oil in a pan. Add chopped garlic and onion. Saute for 2 minutes. Now add small pork pieces. Stir fry them for 5 minutes.
Now add boiled rice and mix well. Now add all the ingredients of the sauce (fish sauce, soy sauce, brown sugar and chicken stock). Add chopped omelette, tomatoes, spring onions and coriander.
Cook for two more minutes by stirring lightly and serve.