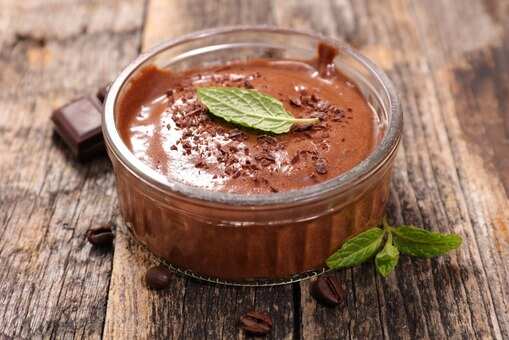 Craving something sweet but don't want to whip up something exotic? We have got you covered with this super easy pudding recipe. All you need is cocoa powder, dates, chia seeds and almond milk. This no-cook recipe can be made by anyone and it will be ready in just a few minutes. It is super healthy as it doesn't include refined sugar. It contains dates, which gives it a natural sweet flavor. Do try this recipe, rate it and let us know how it turned out to be.
INGREDIENTS : (2 Servings)
4 pitted dates
2 tablespoon unsweetened cocoa powder
1 teaspoon vanilla extract
4 tablespoon chia seeds
3/4 cup almond milk
Step 1 Blend everything together Take a blender jar. Add pitted dates, chia seeds, cocoa powder, almond milk and vanilla extract. Blend until smooth.
Step 2 Ready to be served Once done, pour into two shot glasses or small dessert bowls and refrigerate for 30 minutes. You can also garnish the pudding with chocolate shavings, pistachios and chia seeds. Once set, the pudding is ready to be served.