Deep in the jungles of Malaysia, some of the world's best peppercorns are used as the focal point for braised chicken with tomatoes, coconut, chillies and herbs.
D
Deep in the jungles of Borneo in Sarawak, Malaysia's largest state, are small pockets of peppercorn farms. The bright green pepper vines that nestle on steep hills slanting down towards rivers and streams are vibrant against the deep green of the jungle. Cultivated mostly by Indigenous communities such as the Iban, these small, family-run farms grow some of the best pepper in the world.
Mandy Yin, the owner of a renowned Malaysian restaurant in North London called Sambal Shiok, visited such a farm in 2019. It was here that she first tried manok pansoh, a traditional Iban dish. In the Iban language, pansoh means to "cook in green bamboo over open fire", and manok means "chicken". The dish is frequently cooked at celebratory times, especially at Gawai, the June harvest festival celebrated by Sarawak's Indigenous communities.
Manok pansoh is the inspiration for Yin's Sarawak White Chicken, featured in her 2021 cookbook Sambal Shiok: the Malaysian Cookbook. Yin explained that the original dish is "chicken cooked in bamboo with aromatics, picked by the Iban women from their jungle 'back garden' – simple yet effective flavours." Yin loved how they balance white Sarawak pepper with the chicken, making the spice the star of the show.
Yin's version of the recipe, which doesn't include open fire or green bamboo, uses lemongrass and laksa leaf (also known as Vietnamese mint) as its aromatic backbone – flavours that are quintessentially Malaysian to her. And she includes a lot of freshly toasted black and white peppercorns. "You really want the peppery hit to be as strong as possible," Yin said.
Pepper was introduced as a commodity crop in the 1840s by Hakka Chinese communities in the Bau district of southern Sarawak, near the capital of Kuching. Over time, the Chinese moved into more urban spaces and the Indigenous communities began growing pepper on their farms. Pepper is now grown throughout Sarawak amongst fruit trees, rice paddies and vegetables. It is a cash crop that puts children through school and covers essentials such as petrol for the longboats that are used for transport from longhouse villages to towns.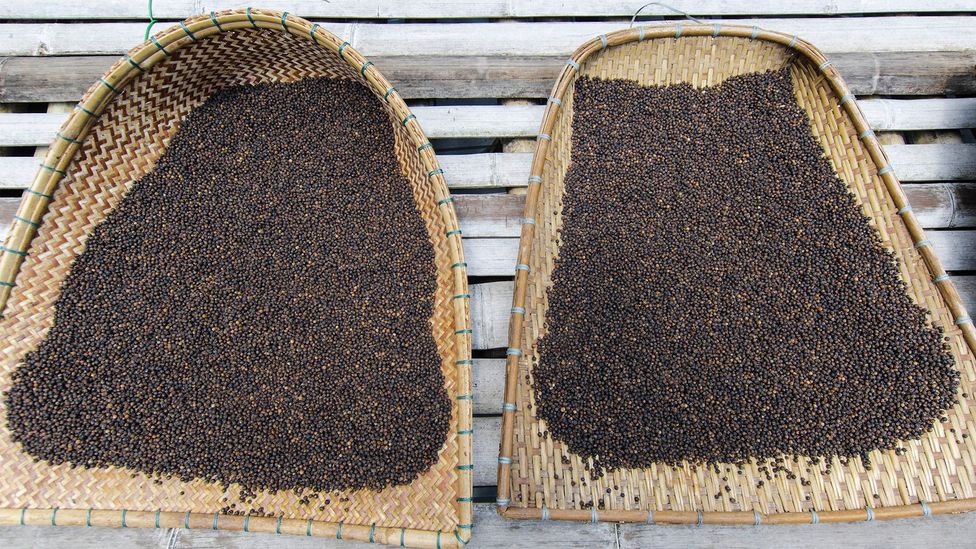 Pepper is now grown throughout Sarawak amongst fruit trees, rice paddies and vegetables (Credit: Liam Bunce/Alamy)
Originally from West Malaysia, Yin had only been to Sarawak and to a pepper farm for the first time during this 2019 trip. "I had no idea what a pepper vine looked like and hadn't realised that black and white pepper came from the same plant, just treated in different ways," she said.
To make white pepper, ripe pepper berries are picked then left in fabric sacks in a very clear and clean stream for a few days, so that the outer pulp is washed off before the berries are dried in the sun. "White pepper adds a subtle smoky flavour to whatever you're cooking, and Sarawak white pepper has a unique, wonderfully potent floral fragrance," Yin said.
To make black pepper, berries are harvested just as they are ripening, then they are left to dry under the sun until they turn black. "The black pepper heat is actually quite ferocious – use sparingly!" suggested Yin.
As well as gaining a new understanding of the variety of flavour and aroma in pepper, Yin explained that hearing the farmers talk made her realise how difficult and expensive it is to farm pepper, particularly inland. Transport costs are high, and about 90% of Sarawak black and white pepper is exported. "It gave me a new appreciation for this product, one that seems to be so ubiquitous and abundant," Yin said.
For this recipe, it's ideal to use Sarawak pepper. Otherwise Yin suggests seeking out speciality black and white peppercorns from independent spice importers who source high-quality pepper that will have a richer, stronger flavour than supermarket peppercorns.
Yin recommends adding a dash of ground white pepper to stir-fries and meat marinades, and it generally makes it into every broth she cooks. "White pepper is magic because its heat won't overpower the dish. It just adds a finishing roundness to whatever you're cooking," she explained.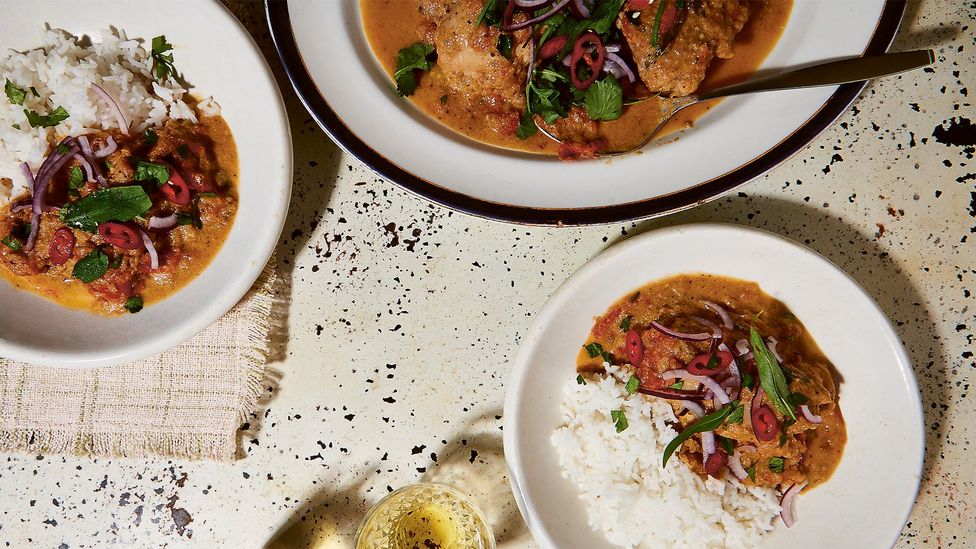 Mandy Yin's Sarawak white chicken (Credit: Louise Hagger)
Serves 4
INGREDIENTS
For prepping the chicken:
6 skinless, bone-in chicken thighs
1 tsp salt
For the spice paste:
200g (7oz) onion, roughly chopped
2 garlic cloves
2½cm (1in) piece of ginger
2 lemongrass stalks, roughly chopped
For cooking the chicken:
1 tsp black peppercorns, preferably Sarawak
1 tsp white peppercorns, preferably Sarawak
3 tbsp vegetable oil
450g (1lb) tomatoes, cut into eighths
300ml (10½oz) water
5 laksa leaf stalks with leaves still attached (see Note)
100ml (scant ½ cup) coconut milk
For the garnish:
½ handful picked laksa leaves or mint leaves
½ handful freshly picked coriander leaves
1 red onion, quartered then finely sliced into semicircles
2 red chillies, finely sliced
juice from ½ lime
Method
Step 1
In a bowl, marinate the chicken with salt. You can do this the night before and leave the meat in the fridge overnight. However, I usually just do it on the day of cooking and leave the chicken for an hour in its bowl on the kitchen counter to give it time to reach room temperature. It means that your cooking time will be reduced later.
Step 2
While you're waiting for the chicken to marinate, in a food processor or blender blitz the spice paste ingredients into a fine purée.
Step 3
Toast the black and white peppercorns in a small frying pan (no oil is needed) over low heat until fragrant. Grind into a fine powder using a pestle and mortar. (You can also use freshly ground pepper if you do not have whole peppercorns.)
Step 4
In a medium-sized saucepan over medium heat, warm up the oil and then add the blitzed spice paste and ground pepper powders. Fry until fragrant and the oil separates (which will take a maximum of 10 minutes).
Step 5
Add the chicken, tomatoes, water and stalks of laksa leaf or mint. Bring to boil and simmer, covered, over low heat for 25 minutes. Stir every 5 minutes to ensure even cooking. Add the coconut milk for the last 5 minutes of cooking. Taste and add more salt if desired. Remove the stalks of laksa leaf. To serve, garnish with herbs, red onion, chillies and a squeeze of lime juice.
Note
You can use more laksa leaf if you prefer a more aromatic version. If you cannot find laksa leaves, use a small bunch of mint, stalks and all.