There is no doubt about the fact that salad is an extremely healthy dish. It is an important source of daily fibre, improves digestion, helps manage weight and appetite and is rich in vitamins, minerals and antioxidants. Both fruits and vegetables can be used to prepare a delicious salad within no time.
Some of the best green vegetables to add to a salad include spinach, kale, lettuce, beet greens, watercress, etc. Apart from these, many seasonal vegetables and fruits can be also used to make a delicious and healthy salad. Here is a look at 6 salad recipes you can make using winter seasonal foods.
​Spinach and vegetable salad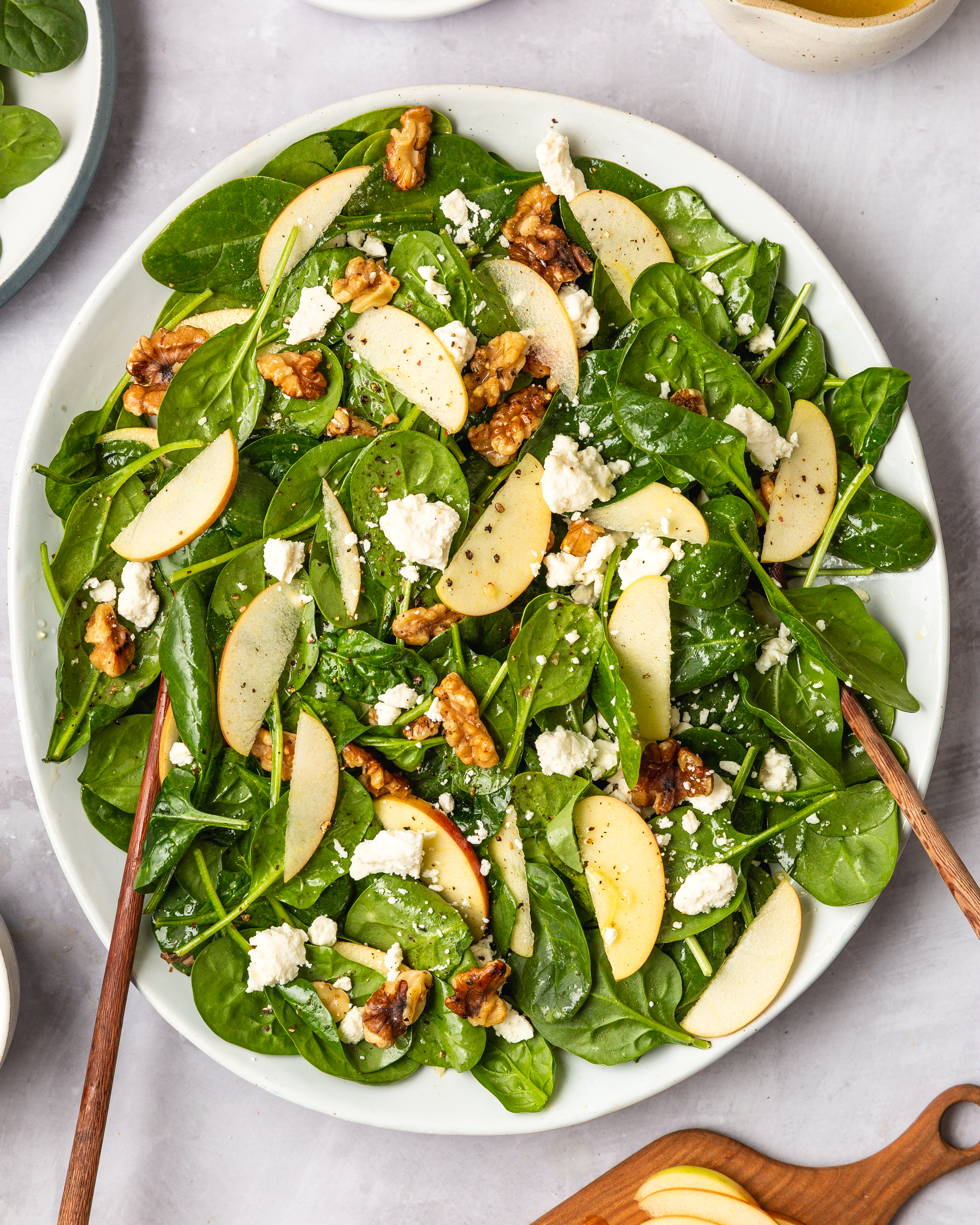 Add 100 gm. fresh chopped spinach to a salad bowl. Top it with 1/2 cup cherry tomatoes (halved), 1 diced cucumber, 1 chopped onion, 1 diced red pepper, 50 gm. crumbled feta cheese and mix well. Drizzle 1 tbsp. balsamic vinegar and 1 tbsp. olive oil over the top of the salad. Add 1/2 tsp. black pepper and salt as per taste. Serve.
Sweet Potato Salad
1. Preheat oven to 120 C. Place 3 large diced sweet potato into a large bowl and toss with 1 tbsp. olive oil and 1 tsp. sea salt. Bake for 30 minutes or until cooked through, flipping once. Remove from oven and let the potato chunks cool.
2. While the potatoes are roasting, add 100 gm. chopped spinach, 1/2 cup onion, 1/3 cup dried cranberries, 2 tbsp. apple cider vinegar and 2 tbsp. lemon juice in a large bowl. Add cooled sweet potato chunks to the bowl and stir to combine. Gently stir in 1 chopped avocado. 1/2 tsp. pepper and 1/2 tsp. sea salt. Serve immediately.
Pear, Apple and Walnut Salad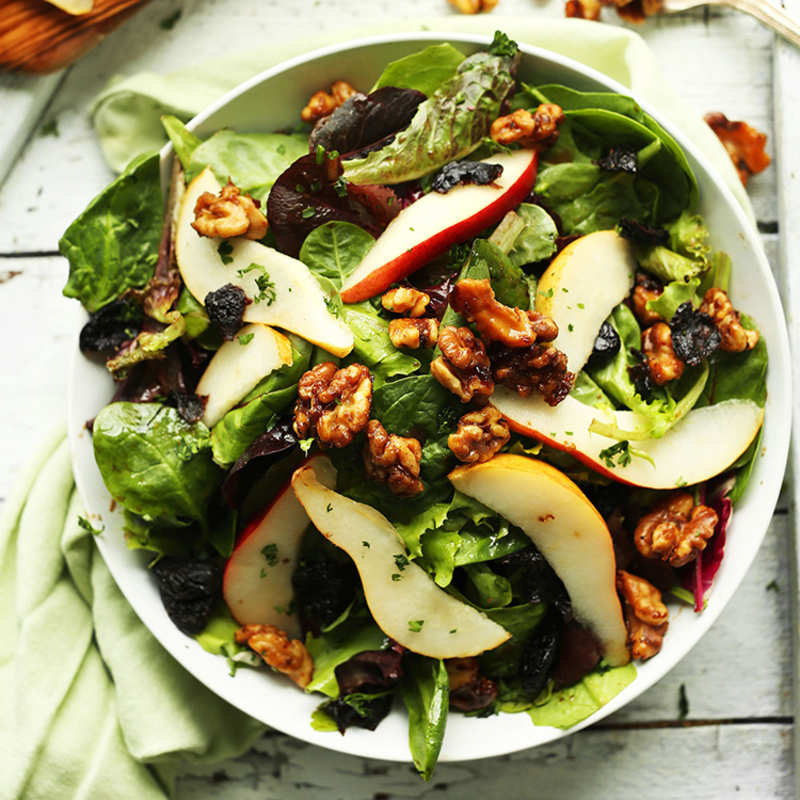 1. In a large bowl whisk together 2 tbsp. red wine vinegar, 2.5 tbsp. orange juice and 1/2 cup raisins.
2. Core and cube 4 apples and 2 pears. Add fruits and 2/3 cup walnuts to a bowl and drizzle with 2 tbsp. extra virgin olive oil.3. Toss well to combine. Season with salt and pepper. Serve.
​Guava and Cottage Cheese Salad
1. Place 1 diced apple, 1 diced guava, 1 diced cucumber, 2 tbsp. crumbled cottage cheese and 1 tbsp. moong dal sprouts in a mixing bowl.
2. In another bowl, combine the pulp of 2 dates with 2 tsp. grated jaggery, 2 tsp. tamarind pulp and black salt. Stir the jaggery till it dissolves.
3. Drizzle the dressing over the salad and serve chilled.
​Spinach & Warm Mushroom Salad
1. Combine 8 cups chopped spinach and 2 cups chopped radicchio in a large bowl.
2. Heat 1 tbsp. olive oil in a large skillet over medium heat. Add chopped onion and cook for 4-5 minutes. Add 3 cups mixed mushrooms, 1/4 tsp. each of salt and pepper and cook until the mushrooms are tender. Remove from heat and stir in 1 tbsp. olive oil, 2 tbsp. balsamic vinegar and 1/2 tsp.3. Immediately pour the warm vinaigrette over the spinach mixture and toss to coat.
​Fenugreek Salad
1. To make the dressing, blend together 1/2 cup vinegar, ½ cup oil, 2 tbsp. mustard paste, 1/4 tsp. red chilli powder, 1/2 tsp. chaat masala, 1 tbsp. sugar and 1 tbsp. dried pomegranate seeds. Add salt, mix well and strain the mixture into a bowl.
2. Roughly chop 2 tomatoes and add to the dressing. Add fenugreek leaves (1 bunch, separated) and mix well.3. Heat 1 tbsp. oil in a non-stick pan. Mash 8 garlic cloves, add to the pan and sauté till the garlic becomes evenly golden and crisp. Add 1/2 tsp. mustard seeds and 8-10 walnuts and sauté till the mustard seeds splutter.4. Transfer the fenugreek salad into a serving plate. Pour the tempering over the salad. Garnish with a lemon wedge and serve.