Cardamom and pistachios flavour this smooth and creamy frozen treat, which has origins dating as far back as the 16th Century.
India's sultry summers are best experienced with bites of soft, creamy kulfi, a traditional conical-shaped frozen confection made with milk and frequently flavoured with pistachio. Every year, starting around April, with the gradually rising temperature, kulfi stalls can be seen coming out of hibernation. Out on the street, spotting a kulfiwallah, as the sellers are endearingly known, is often enough to confirm the beginning of summer. 
While kulfi's association with hot weather remains absolute, for many Indians the traditional ice cream is also closely linked with simpler times and childhood nostalgia.
"I spent all my childhood summer vacations at my maternal grandma's home in Mumbai," said Poonam Shah, founder of Bombay Kulfi. "Near our home, there was always this one kulfi vendor that sold traditionally made kulfi."
Due to regional food preferences, the frozen dessert wasn't easily accessible in Coimbatore, the South Indian city where Shah was born and raised. But her summers in Mumbai sowed the seed for a kulfi brand of her own. In 2015, together with her friend and now business partner, Manish Kankaria, Shah founded one of the largest kulfi brands in India.
Though many know it as a simple frozen confection, kulfi was the result of royal desires and scientific know how. Its history can be traced, in part, to the 16th-Century kitchens of Indian Mughal courts. The Ain-i-Akbari, a detailed account of Emperor Akbar's reign (1556-1605), records the first ever mention of the frozen dessert, along with extensive details on the court's daily activities, including the foods prepared and created in the royal kitchen.
Indian Mughal cuisine was highly influenced by the cuisines of Central Asia and especially Persia. In fact, the term "kulfi" derives from the Persian word "qulfe", which were conical shaped cups that would have been used to mould desserts. At least since 13th Century, summer drinks like sherbet were chilled using the ice and snow procured from the Himalayas, but it was the Arab technique of employing saltpetre to make ice that the imperial cooks used to prepare kulfi – by freezing a mixture of condensed milk, pistachios and saffron.
With the advent of technology, the ancient technique of using saltpetre has been replaced with modern commercial refrigerators and pushcart freezers. Today, only a handful of kulfiwallahs in India continue to use saltpetre for freezing purposes.
"In some Indian villages, kulfi is still made and sold in the traditional way," Shah said, "but rarely is that method seen in the cities."
Despite mentions of kulfi in Ain-i-Akbari, its exact origins remain unclear. Considering the influence of Persian cuisine, it is possible that the concept of the frozen dessert may have originated in the cooler regions of Persia and Samarkand, where similar summer desserts like faloodeh (also known as paloodeh) and sorbet existed as early as 400-500 BCE. According to food historian Charmaine O'Brien, "the Mughals appropriated the concept and elaborated on it to create the creamy, perfumed dessert that it is now."
Regardless of its place of origin, for many Indians, the idea of considering kulfi as the Indian version of the Western ice cream is bothersome, especially since the former was likely invented long before ice cream was introduced in the West. Moreover, there's a clear distinction in its method of preparation and texture.
"Kulfi is completely different from ice cream," said Abhishek Gupta, executive chef at The Leela Ambience Gurugram Hotel & Residences in Gurugram District, one of Delhi's major satellite cities. "Kulfi is a cold dessert made from dairy, which is just frozen. The mixture is usually flavoured milk (cardamom, saffron, pistachio, rose petals) that is slowly cooked in a kadai (wok), which reduces the milk and eventually condenses it. The slow cooking makes the sugar caramelise. The mixture is poured in moulds and then frozen. To speed up the process, the mould is submerged in ice and salt. This freezing method gives kulfi its distinctive smooth, soft, creamy taste, free of crystals."
Ice cream, on the other hand, Gupta explained, is a frozen dairy dessert prepared by churning milk with various flavours, sugar and cream, followed by freezing. Of course, the serving style of kulfi and ice-cream also differ: kulfi is de-moulded, cut into half and topped with syrups, nuts and saffron, while ice-cream is scooped and usually served in bowls or cones.
There is one thing kulfi and ice cream have in common though: they have both been subject to innumerable experiments and developments. And despite the seemingly endless flavours of kulfi available, the royal recipe of pistachio-flavoured kulfi continues to reign supreme.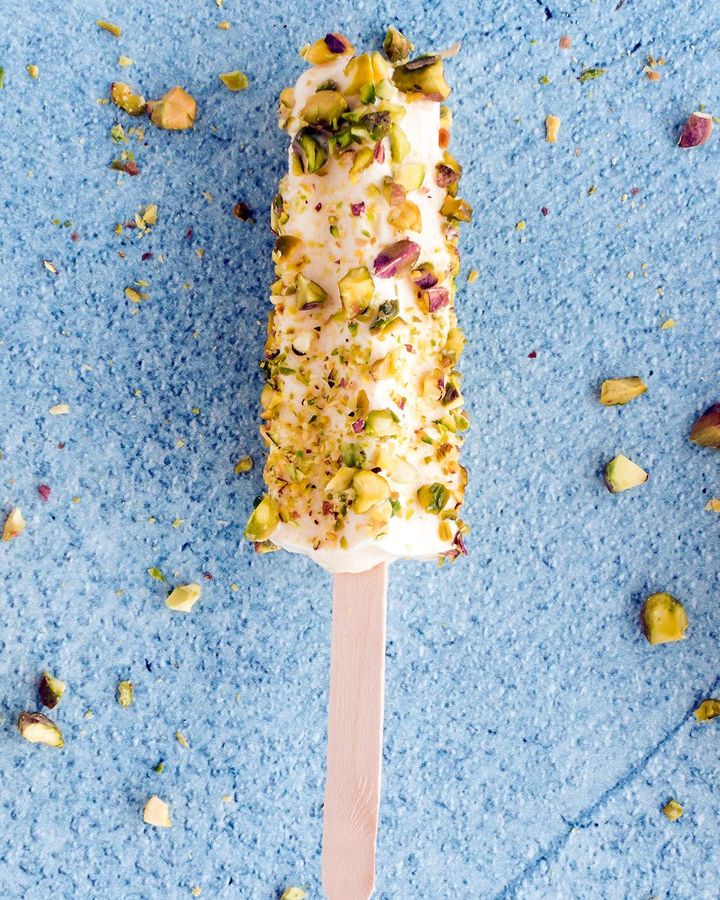 India's classic kulfi is a cold, creamy dessert (Credit: TinasDreamworld/Alamy)
Abhishek Gupta's version of cold, creamy, pistachio-flavoured kulfi stays true to the classic version.
Serves 10
INGREDIENTS
2½ litres (10½ cups) whole milk
10 cardamom pods
150g (¾ cup) granulated sugar
50g (2½ tbsp) sweetened condensed milk
800g (1¾lb) chopped unsalted shelled pistachios
Method
Step 1
Pour the milk in a wok and allow it to simmer until it reduces to one-third of the total volume. Stir to prevent it from sticking to the pan. Add the cardamom pods (or cardamom seeds, if using).
Step 2
Add the sugar and bring to boil. Remove the wok from the heat and let the mixture cool either in the wok or in a bowl.
Step 3
Add the condensed milk and mix well. If using cardamom pods, remove the pods. Transfer the milk mixture to a blender and puree until smooth. Stir in the chopped pistachios. Pour the mixture into a kulfi or ice cream mould.
Step 4
Place in the freezer until half frozen; insert 10 sticks into the mixture. It may take 4-8 hours to freeze completely. Once completely frozen, remove from the mould and garnish with more chopped pistachios.